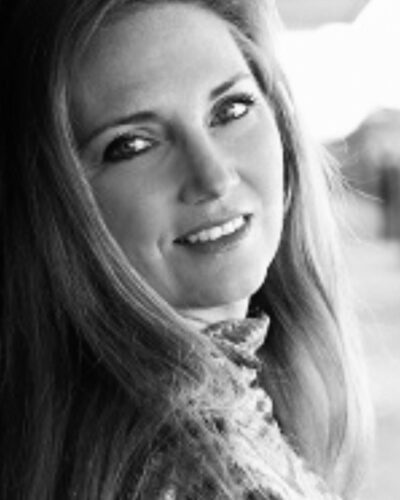 Shannon Christine
Master Teacher: Ballet, Pointe, Jazz, Tap, Hip Hop, Musical Theatre, and Creative Movement, Art Instructor
Ms. Shannon has been a ballet and dance teacher, performer, and choreographer for over 20 years. She is a certified ballet teacher in Cecchetti Syllabus Grades I, II, and III. She has her Bachelor's of Science in Biology and Art from the University of Missouri Columbia, and her degree in Education and Certification in Science and PRE K-12 from the State of Missouri. Ms. Shannon was the School Director for Dance Arts of St. Louis for 16 years, the Chair of the Dance Department for Parkway School District High Schools, Desmet Jesuit College Prep, and Crossroads College Prep. She was on ballet scholarship at Columbia Performing Arts and was also an intern for MADCO (Modern American Dance Company). Ms. Shannon has had the privilege of partaking in residencies with many dance companies including, Alvin Ailey and Paul Taylor. Ms. Shannon is passionate about ballet and enjoys teaching students of all ages the joys, creativity, technique, and performance skills creating great artists. She has performed Romeo and Juliet with American Ballet Theatre and Stuttgart Ballet through Dance St. Louis. Ms. Shannon has performed and staged classics such as Nutcracker, Swan Lake, La Bayadare, Les Sylphides, Pas de Quatre, Paquita, Grand Pas Classique, Sleeping Beauty, and Don Quixote. Ms. Shannon helped created new story book ballets such as Beauty and the Beast, The Sorcerer's Apprentice, Tiana's Mardi Gras Ball, Little Red Goes into the Woods, The Secret Garden, Tinkerbell and Her Fairy Friends, The Rainbow Fairy, and Fairy Tale Excerpts.
Ms. Shannon's students have attended Master Classes and Residencies with Complexions, River North, Hubbard Street Dance Chicago, Ruth Paige's Civic Ballet of Chicago, Joffrey Ballet, Sydney Ballet Australia, Miami City ballet, Kansas City Ballet. Ms. Shannon has taught and coached YGAP dancers and trained a ballerina to teach ballet for Joffrey Ballet School NY.
Ms. Shannon's students have attended Joffrey, ABT, Nashville Ballet, Kanas City Ballet, Alvin Ailey, and summer intensives, as well as been awarded university scholarships. They have gone on to perform with Boston's Urbanity, Dayton Ballet, Dance Captain for Disney Broadway Touring HS Musicals & 9-5.
Ms. Shannon is also an art enthusiast. She has started selling her artwork, entering art competitions, and showing her art in local art shows since the age of 9. Commissioned colored pencil works of realistic portraiture, still life, and from photographs. Through middle school and high school she was asked by her school to create and paint murals for the Drama Room and Gymnasium.
She also created yearbook and program book covers, clothing logos, and school logos, and stationary. Designed and drew the emblem for the Kirkwood Fire-department. She won awards and contests for The American Heart Association Poster and St Louis Post Dispatch Newspaper "100 Neediest Cases". She was the president of the National Art Honors Society and helped give individual lessons to many aspiring artists.
As a professional artist she has designed and created many backdrops for theatrical productions, costumes, websites, logos, photography, videography, digital design, editing, and advertising.
She taught art and creativity and designed curriculum for community days at Spark Dallas for over 1,000s of families. Ms. Shannon also designed and created a mural, color me T-shirt's for Spark Dallas. Ms. Shannon's haute couture fashion was featured in Transcend Dallas 2017, her watercolor Dallas skylines were featured in the Dallas Observer November 2017, and her work has been shown at Neiman Marcus, 5×5, and Cedars Open Studios 2017-2018. Her artwork ranges from paintings, fabric, and sculpture – realistic and abstract.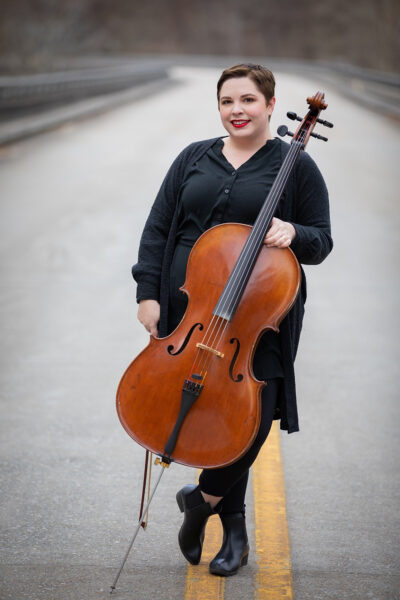 Mandy Guilfoyle
Cello, Piano, Violin, Viola, Ukulele Instructor
Mandy Grace Guilfoyle, born in Seminole, Florida, is a cellist and educator with over 19 years of experience. Mandy was performing the cello professionally and wowing audiences since middle school when she played in dozens of ensembles and groups, as well as winning competitions. Mandy has performed in multiple countries, including France, Italy, and Europe, as both a string quartet member and the principal cellist of an orchestra. She has a love of performing, and deeply honors and respects the connection between two humans during a musical performance.
She moved to Dallas in 2009, where she studied with soloist Andrés Díaz at Southern Methodist University and received a B.A. in Music, and then an M.A. in Music Education in 2018. Mandy has extensive experience as an educator, where she spent time as a classroom orchestra teacher for both a middle school and high school, private lesson teaching experience with piano, violin, viola, cello, and ukulele with students aged 4-84, and group lesson experience with students of all ages and instruments.
Along with her performing and teaching history, Mandy has a sizeable background in music administrative work. During her time in Asheville, Mandy was the Program Director of the Asheville Music School, where she was in charge of the school's outreach program, bringing the joy of music to underserved communities in the city. She also was briefly the interim manager of the Asheville Youth Symphony as they transitioned full-time managers, where she started the new year hiring new conductors, purchasing and organizing music for students and teachers and planned the youth symphony's concerts, events, trips, and programs for the upcoming year.
In February of 2020, Mandy was a featured soloist performing the Ibert Cello Concerto with the Blue Ridge Orchestra in Asheville, NC, for two packed-house concerts. She commonly performs as a soloist, chamber musician, orchestral musician, principal cellist, and as a freelancer for all types of events.
Mandy Guilfoyle is currently located in Dallas, TX, where she teaches private lessons and performs regularly. She lives with her trombonist husband Chris, and her Boston Terrier, Darby.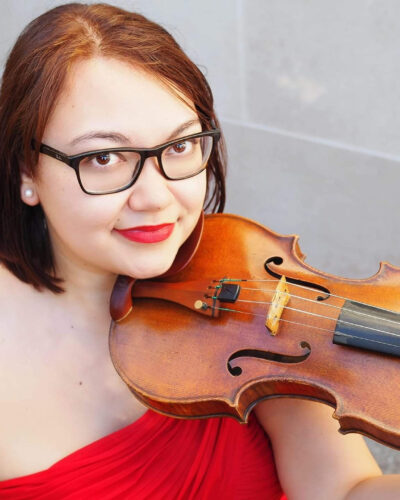 Sara Sasaki
Private Violin, Viola, Piano, Baby Music and Me, Baby Bach, Little Mozart, Soloist Pero Piano, Chamber Orchestra Instructor
Sara Sasaki is a violinist based in Dallas, Texas, and has a 15 year teaching career with experience teaching all levels and ages. She recently became a graduate of The University of Texas Butler School of Music with an Artist Diploma degree, studying primarily with Sandy Yamamoto. Previously she has earned her Master of Music degree from The University of Texas Butler School of Music and Bachelor of Music degree from the Oberlin Conservatory of Music.

While studying at UT, she has held the positions of Concertmaster and Principal Second Violin with the University of Texas Symphony Orchestra under the direction of Gerhardt Zimmermann, Concertmaster with the University of Texas New Music Ensemble under the direction of Dan Welcher, and Concertmaster of the Bach Cantata Project under the direction of Dr. James Morrow. Ms. Sasaki is the Artistic Director of the contemporary chamber group prismatx ensemble, founded in May 2016 and based in Austin, Texas. She has been a performer and fellow at The Next Festival of Emerging Artists, soundSCAPE composition and performance exchange, Heifetz International Music Institute, Aspen Music Festival, and Eastern Music Festival.
In the Dallas area, she regularly performs with the Las Colinas Symphony Orchestra and Plano Symphony Orchestra, and additionally enjoys performing with bluegrass bands Ioni Creek and The Quibble Brothers. Sara resides in Dallas with her fiancé Charlie and cat Kikko, and loves working with her wonderful students on a weekly basis.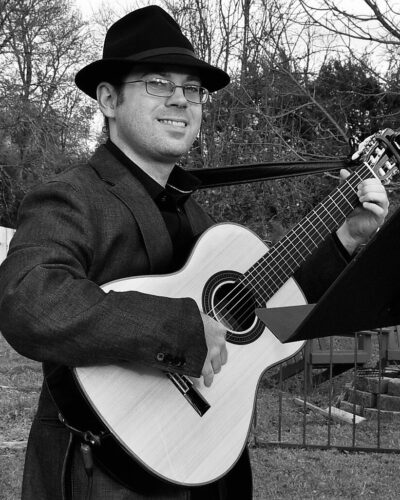 Perry Brooks Nichols
Private and Group Guitar, Ukulele, Piano Instructor
Perry Brooks Nichols is the fifth generation of a family of Dallas artists. At 10 years old, he was Inspired by the sounds of 90's alternative grunge and classic rock to dust off his mother's classical guitar. His educational journey began when his Middle School's music teacher allowed him to accompany the recorder ensemble by strumming chords.
Alongside electric guitar studies with Brad McLemore as a young teenager, he developed a fascination with sight reading music for the Spanish Guitar. A year later he was accepted to Booker T. Washington High School of the Performing and Visual Arts to study jazz with Chuck Pangburn and supplemented these studies by attending classical guitar masterclasses taught by Robert Guthrie, Enric Madriguera, and others. He was granted a full scholarship to SMU's classical guitar program where he completed a BFA in 2005. Over this course of study, he discovered his passion for guiding students from beginning to advanced levels into the knowledge of the guitar's diverse musical languages with an emphasis on developing a natural relaxed technique, cultivating literary proficiency with many forms of notation, and finding one's expressive voice.
As a musical artist, Perry has collaborated w/ various artists on recording sessions and released solo albums under the moniker Crowyote. He performs annually at local festivals such as the Clove Hill School Lantern Walk Festival. His students have placed in UIL competitions, and have been accepted to prestigious institutions such as the Berklee School of Music Master's degree program in Valencia, Spain.
Perry's teaching specialties include: Youth Education, Sight Reading, Music Theory, Solfeggio, Classical/Flamenco Right Hand Technique and Fingerpicking, the Carlevaro technique, DADGAD, Vestapol and alternate tunings, Chord Melody, Interpretation, Lead & Rhythm Electric Guitar, Composition, Ambient Guitar, Acoustic Synthesis, Recording, Editing, Mixing, Mastering, and Effects.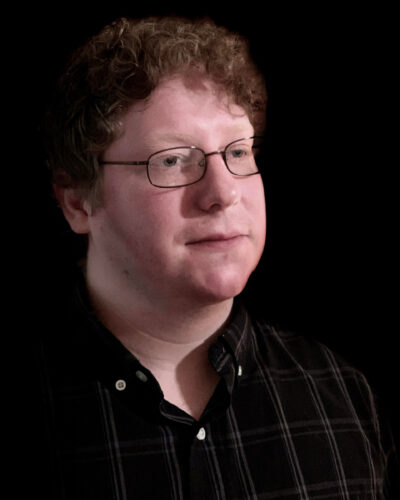 Ben Martin
Piano, Guitar and Drum Instructor
Ben Martin, from the DFW area, is a piano instructor who has been studying and playing music for over 16 years. He received an Associate's Degree in Music from the Dallas County Community College District system, studied jazz and classical music performance and history at the University of Texas in Arlington, and earned a Bachelor's Degree in Art and Performance from the University of Texas in Dallas. He started his musical career with the electric bass guitar and quickly expanded his repertoire to include guitar, piano, singing/vocalizing, upright bass, mandolin, percussion, and the drum kit. Along with being proficient in music theory, composition, and music history, Ben has extensive experience performing and even composes his own music. Ben has a strong desire to instigate a love of music in his students and hopes each of his students gains an appreciation for the art of music.