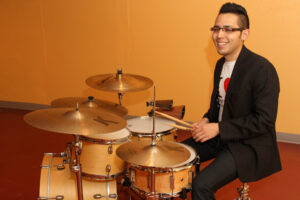 VICTOR SANCHEZ
Drum, Piano, Violin, Viola, Cello, Upright Bass, Ukulele, Acoustic Guitar, Electric Guitar and Bass Guitar
Mr. Victor Antonio Sanchez attended the prestigious University of North
Texas studying with the legendary Ed Soph. He graduated cum laude with a
Bachelor of Music from their world-renowned program. He focused on Straight
Ahead Jazz, Afro Cuban and Big Band Drumming with an emphasize on Adv. Music
Theory and Keyboard. Mr. Sanchez is also a multi-instrumentalist & vocalist
surpassing the confines of rhythm.
Mr. Sanchez has played music professionally participating in marching, wind
symphonies, orchestras, jazz big bands, Brazilian ensembles, stadium events,
houses of worship, studio work, publishing online content and other endeavors. He
has performed coast to coast as well as in Mexico and Israel.
Mr. Sanchez has taught elementary music with Orff & Kodaly lv. 1
certifications. His students placed top positions in ballroom dances through rhythm
coaching and excelled at Music Memory competitions. Most enjoyable were the
winter and end of year performances directed by Mr. Sanchez.
Mr. Sanchez most recently served as the Head Choir/Orchestral Strings
Director at North Houston Early College High School. He oversaw beginner Men's &
Women's, ADV Mixed, Music Theory and Orchestral Strings (Violin, Viola, Cello,
Double Bass). Many of his students have received top honors in percussion, choir,
and string competitions.
Mr. Sanchez has been mentored as well as performed with Grammy Award
winning artist. As amazing as that is, his greatest personal accomplishments have
been successfully gigging with some of the students he has taught. He looks
forward to the next set of students who would like to succeed in life one note at a time.