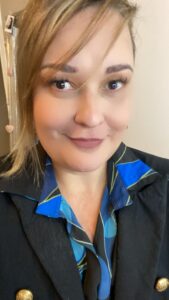 PATRICIA SILVA
Master Art Instructor and Cooking Instructor
Patricia Silva, otherwise known as Miss Bee, is a multifaceted artist who seeks to help people find their path through art. She teaches art in the hopes that everyone may use the lessons and skills given to them to discover themselves. She loves working with all ages and backgrounds of people, as art is something that should be shared with everyone.

Miss Bee is an artist that loves to help people explore creativity and bloom through all forms of art, whether it be jewelry, acrylic paints, crafts, collages, culinary arts, cake decorating, confectionaries, embroideries, papier-mâché, sculptures, ceramics, flower arrangements, ikebana, rag dolls, art texture, paintings, recycling art projects etc.

Miss Bee holds a Bachelor's in Art Education from Mozarteum University in Sao Paulo Brazil, and she is a specialist in perspective drawings. While raising her kids she became a master of confectionery arts and brought her talent to a Latino television channel (Univision) in 2014. She holds certifications in coaching holistic art and she loves Frida Kahlo. She is working on obtaining her second Bachelor's in Art Education in the US and hopes to learn much more in doing so. Miss Bee also has an extensive interest in world languages, as she has learned to speak fluent Portuguese, English, Italian, and Spanish.