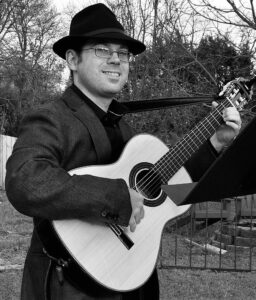 PERRY BROOKS NICHOLS
Guitar, Ukulele, Piano Instructor
Perry Brooks Nichols is the fifth generation of a family of Dallas artists. At 10 years old, he was Inspired by the sounds of 90's alternative grunge and classic rock to dust off his mother's classical guitar. His educational journey began when his Middle School's music teacher allowed him to accompany the recorder ensemble by strumming chords.
Alongside electric guitar studies with Brad McLemore as a young teenager, he developed a fascination with sight reading music for the Spanish Guitar. A year later he was accepted to Booker T. Washington High School of the Performing and Visual Arts to study jazz with Chuck Pangburn and supplemented these studies by attending classical guitar masterclasses taught by Robert Guthrie, Enric Madriguera, and others. He was granted a full scholarship to SMU's classical guitar program where he completed a BFA in 2005. Over this course of study, he discovered his passion for guiding students from beginning to advanced levels into the knowledge of the guitar's diverse musical languages with an emphasis on developing a natural relaxed technique, cultivating literary proficiency with many forms of notation, and finding one's expressive voice.
As a musical artist, Perry has collaborated w/ various artists on recording sessions and released solo albums under the moniker Crowyote. He performs annually at local festivals such as the Clove Hill School Lantern Walk Festival. His students have placed in UIL competitions, and have been accepted to prestigious institutions such as the Berklee School of Music Master's degree program in Valencia, Spain.
Perry's teaching specialties include: Youth Education, Sight Reading, Music Theory, Solfeggio, Classical/Flamenco Right Hand Technique and Fingerpicking, the Carlevaro technique, DADGAD, Vestapol and alternate tunings, Chord Melody, Interpretation, Lead & Rhythm Electric Guitar, Composition, Ambient Guitar, Acoustic Synthesis, Recording, Editing, Mixing, Mastering, and Effects.